Oh, hello there. Fancy seeing you here. You might be wondering about our big blog redesign.
If you're a frequent visitor to Someday I'll Learn, you've probably noticed that things look a little lot different around here all of the sudden. We've been diligently working behind the scenes with a very talented designer, Jeni from The Blog Maven, to revamp things and get our online space to be a better reflection of us.
I first became aware of Jeni's work over on one of my favorite blogs, Extraordinary Mommy. As soon as I saw the incredible transformation that Jeni had made to Danielle's site, I was sold. What I didn't expect was that along with making our site pretty, Jeni has an incredible knack for asking all of the questions that bloggers should be asking themselves when it's time for a blog redesign. There are a huge list of considerations that go into data-driven design, such as who the target reader is, what the top referral sites are, bounce rate, goals.
Blog Redesign: Getting back to the Heart of it
Most importantly, Jeni helped get us rediscover the heart of why we blog. It's been a difficult few months here for the Day household, a growth period that just happened to coincide with Jeni arriving in our lives. Throughout the time we've been working with her, we've been working internally to sort out our goals for this company and our lives. Visually, Jeni helped develop a logo that perfectly reflects our enthusiasm for family life. It's messy, it's fun. Embrace every moment.
We pared down our categories to better represent the facets of our life.
Working with brands is an essential part of what keeps our business going, so we made the site more PR-friendly.
In an effort to focus more on the unique philosophy and personality of our family, we've stopped accepting guest posts and contributions. Just members of the Day family, Nate and I and the people who have helped shape who we are today. Since we've received feedback that some of you prefer to read Nate's more gritty content and some of you prefer my softer style, we've added an author gravatar to the homepage so you can identify who the latest post is from before you click through. And we eliminated comments completely. As much as we love hearing from our readers (and we do, frequently, on Twitter and via email), we are prioritizing our family and our time and simply couldn't dedicate the effort to manage the amount of spam and negativity that was often mixed in with positive comments. We've added a section to the bottom of each post inviting users to hop on over to Twitter or Google+ and engage with us there.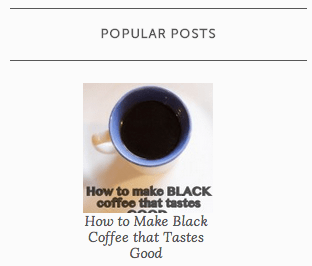 We've added sections to highlight our most popular posts. Did you know that the single most popular post to ever appear on our site is How to Make Black Coffee? I knew that. Now you do, too!
My absolute favorite part about the entire thing is the Pinterest-style tiled images showcasing all of our latest posts on the homepage. At the bottom of each individual post, readers will also find content related to the page that they're reading. Like recipes? We have more. Into camping stuff? There's plenty where that came from.
Last but not least, our blog redesign is doing a better job of highlighting our social media efforts…and, uh, helping point lost readers in the right direction.
Overall, this blog redesign has left us feeling invigorated about our jobs, more confident about our content, and ready as ever to continue differentiating ourselves in this busy world.
Have you ever gone through a blog redesign?