I think the reason that the holidays are so sentimental is that they invoke such incredibly vivid memories in comparison to less-adorned days from the past. We can taste, touch, smell and feel our history through the familiar cookies and linens. That's what this candle craft conjures up for me: the essence and intense glow of childhood festivities.
November through December sees a barrage of scents, flooding our faculties with crisp florals and warm woods.
I found this "Under The Mistletoe" scent by Glade® at Target, and it immediately reminded me of Christmases in my home growing up. We lived in the Pacific Northwest, where fresh berries and evergreen garland could be found around every corner. My mom and I would visit the local tree farm, taking a brief respite from my grinchy stepdad and reveling in the season. We'd park in the same stall and walk down the same little lane every year, where the same bushy-bearded man would hoist a saw over his shoulder and chop our chosen shrub. Mom would spend long days decorating our home, a tradition she inherited from Grandma, thick-scented sprigs adorning every crevice and soft-hued candles glowing in deep bay windows.
With a toddler and preschooler running around, I don't have a lot of room for garland. There's no sparkling snow outside our San Diego eaves. But I do my best to invoke the spirit of the season, setting up carefully-placed decorations and tightly-secured ornaments just out of reach. I make a single centerpiece in the middle of our large family table, always featuring a candle craft of staggered heights and colors.
An Intricate Candle Craft
This year my candle craft pulls in that mistletoe theme, with sprigs I've been fascinated by since those early years. Instead of the pretty gloss leaves shown in movies and on printed packaging, a dwarfed woody version riddled Douglas Firs in Washington. Here in California, the branches grow longer and green, sometimes sprouting small berries. Botanists lead gathering crews through the trees on agricultural tourism expeditions, all so that people like me can have the necessary supplies for our candle crafts.
I buy mistletoe at the local farms. It starts wilting quickly, but can last in this watery candle craft trapped between two pieces of glass or stuck below a tightly-sealed candle top. If you don't have conveniently-interlocking jars, a simple wine glass will do, overturned and with the candle placed on top. Instead of being under the mistletoe our flames are technically over the mistletoe, but that didn't have quite the same ring.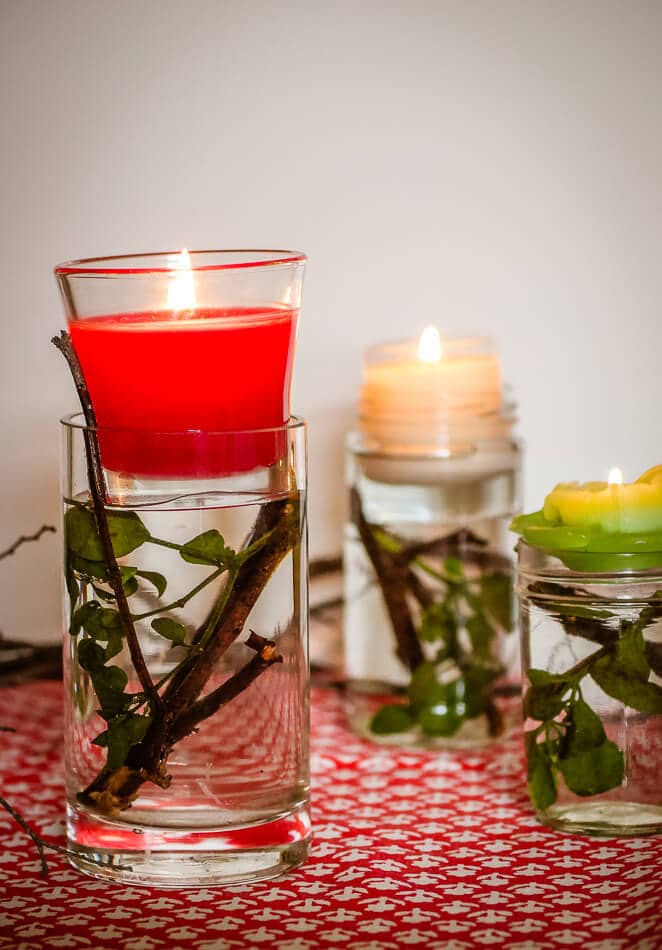 So tell us. Will we find Y OU under the mistletoe this year?