The first time I went shopping for disposables, I was completely baffled about diaper sizing. All of the boxes have a range of weights on them, but to make things utterly confusing….those weights overlap.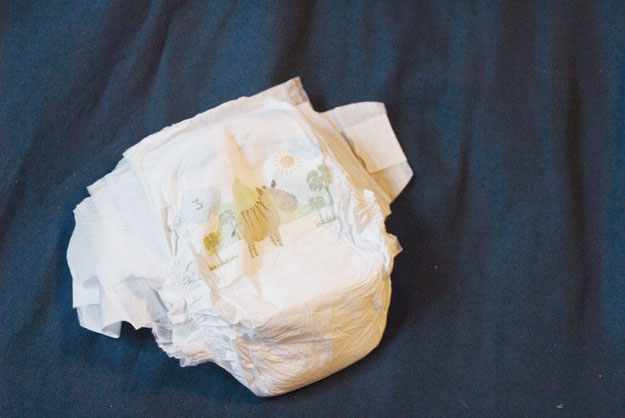 Size 1 is usually "up to 10 pounds," size 2 is "up to 15 pounds," size 3 is 12-18, 4 is 16-28, and so on and so forth. The sleep-deprived new mom's mind boggles! Even once I did manage to narrow down my numerous brand choices, it took me a ridiculous amount of time to figure out where to go from there.
Choosing the Correct Diaper and Diaper Sizing
The most important thing to look for when assessing your baby's diaper sizing is the side panels. When your baby is placed in the diaper, there should be plenty of room for the side panels to stretch around their sides and strap in the front. If these are falling short, it's time to move up a size. And if your baby starts leaking more than once or twice a day, it's definitely time to move up a size. Bigger is almost always better when it comes to diaper sizing. As soon as my babies meet the minimum weight for a given brand's diaper sizing, I go ahead and purchase the biggest diapers possible.
The most important thing to look for when it comes to diaper brand quality is the stretchiness and thickness of the leg elastic. This portion here should be turned outward before placing the diaper on your baby, to help ensure a snug fit and eliminate gaps between where your baby's diaper meets the inner thigh and where the baby's outfit falls. This is prime leak real estate here, and most parents don't bother reading the instructions on the box and are frustrated when they fail to turn this part out and it doesn't protect their baby from leaks.
I've been using these SIMPLY RIGHT™ diapers from Sam's Club and they are the perfect fit for Sidekick. He has that bodybuilder-eque frame that so many babies get, with the large upper torso, small waist and buff little legs. I love that these diapers fit snugly around his hips and leave plenty of space for all the stuff to go. The extra-stretchy side panels and waist help them fit well on his rapidly-growing body, with a thin, flexible fit that prevent leaks. They're also a great deal – Sam's Club members save an average of $392/year by buying SIMPLY RIGHT™ baby products! I'm smitten with their fragrance-free wipes, too. The aloe and vitamin E in them help soothe Some Boy's delicate baby skin, and they've quickly become my go-to wipe because they don't fall apart like so many other house brand wipes.
For a FREE sample of SIMPLY RIGHT™ diapers or wipes, visit http://simplyrightbabycare.com/sample.html today!
This is a sponsored post written by me on behalf of SIMPLY RIGHT™ Baby Care Products.