I tend to not get political over here, and for good reason. I was a Political Science major in college, and I've seen how passionate people become when issues they care about are on the line. Throughout my education, far too much emphasis was placed on the "political" and not enough on the "science." I'm a pretty analytical person. I deal in facts. And the fact is, Americans are fearful about their own health and the health of the country. With regard to ObamaCare, 70% of Americans think our country is on the "wrong track." They're afraid of too few resources spread too thin, and they worry that their family will get lost in the shuffle.
But here's another fact: America is a generous nation.
We care for our weak. In historically tough times for the United States, charitable giving has risen faster than the growth of our economy. We band together to provide resources for those in need. And we're smart, utilizing our skills in ways that are profitable for ourselves and helpful for those in need. For me, that fact has provided encouragement as I watch friends and family panic about skyrocketing copays and deductibles. There ARE resources to help people like you and I deal with everyday health concerns while the nation as a whole gets it figured out.
Service trends are marching towards efficiency and proper use of technology.
For my family, time is money and hours spent languishing in a waiting room for routine issues are unnecessary. I'd rather see this plethora of in-person resources put towards my grandma's pulmonary fibrosis or my step-dad's tumor. My allergy flare-ups or common colds do NOT require the same resources, and I see the medical community slooowly starting to agree.
How We Simplify Family Healthcare
I've recently shared my experience with baby allergies and getting an online doctor consultation through AmericanWell. For $49, you can get a one-on-one consultation with a doctor online. No insurance required. In fact, many insurance providers actually cover the cost of online doctor consultations. Combine that convenience with a service like CVS Caremark that will deliver discounted prescriptions straight to your home, and you've got general family healthcare covered without even stepping outside. We're now looking to get even more proactively involved in managing our family healthcare with programs like WebMD Health for tracking persistent issues and MotherKnows to keep medical records straight. A little information goes a long way.
The next step I'm envisioning is doctors taking advantage of at-home USB health monitors to read heart rates and blood pressure. How far off are we from docs peering remotely into our ear to suss out an infection? It's a FitBit kind of world nowadays, and I have confidence that health and technology will continue to merge in ways that are beneficial to the healthcare system as a whole.
If only dentists could remotely zap away cavities.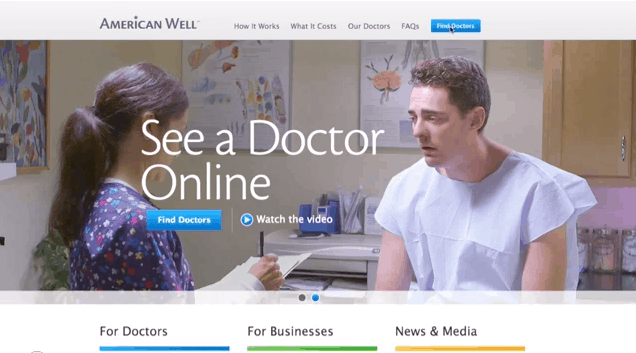 Readers, give American Well a try for yourselves using coupon code THEDAYS. It's good for one coupon or nutritionist visit per account until 2014.
How do YOU simplify family healthcare?