We have a number of different baby monitors pointed in the general direction of Some Boy's crib, but he's rapidly becoming more and more active. There are times when he gets pushed up to one corner of his crib and I can hardly tell on my tiny screen if he's even in there anymore! Most of these baby monitors won't really cut it when he's able to get up and about the room. What happens when he's beyond the crib phase? I can't be watching every corner of the nursery with a standard monitor (although you know I'll want to, being the paranoid protective parent that I am). You hear all about BABY monitors, but what about KID monitors? How do I keep an eye on him when he's not so easily contained? What about when he grows, and his space grows along with him?
Meet the iBaby. This little number is the most advanced baby or kid monitor I've ever seen. It hooks up to my home's WiFi network so I can access it through an app on my iPhone. Since I always have my iPhone with me anywhere in my home, it's really convenient for me to just pull up the app and take a peek at what he's doing in the nursery. The monitor automatically detects if it's day or night and adjusts the screen setting with night vision if necessary. It's comforting to be able to look in and see if he's still sleeping, scrounging around for his binky, if he's scrunched up in a corner or if he's trying to eat through his crib slats. He's teething. It happens. If I catch him doing something exceptionally cute, I can snap a quick screenshot and save it to my photo albums to send on to friends or share online.
The monitor can pan around the room almost 360 degrees and has the ability to attach to speakers so I can not only hear Some Boy, but talk back to him as well. This will definitely come in handy when he's older. "Stop making a mess in there…Dinner's ready…Don't pull the heads off your action figures!" The uses are endless. At $200 it isn't cheap, but well worth it for a monitor that can really grow with your kid and help keep an eye on him from a distance for years to come. I do wish it had a zoom function to focus in on him while he sleeps, but we'll just keep using our simple bed-side monitor to see his breathing until I'm no longer worried about the risk of SIDS. The iBaby support team was extremely helpful and quick to respond to a few questions I sent their way via email. It makes me feel really secure about my purchase when I know that there's a great customer service team backing the product. I also feel super fancy whipping out my iPhone to check up on my baby on a kid monitor in another room.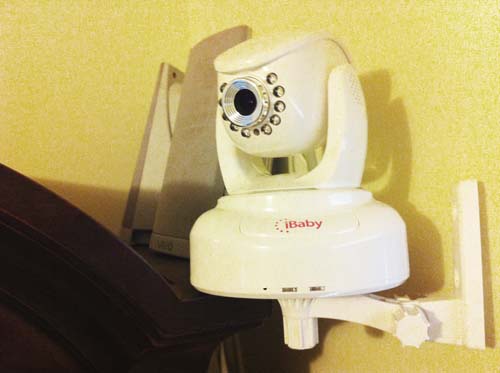 Yeah, it's all about the cool mom bragging points around here. Next up: how I magically make dinner appear out of thin air and do laundry with my pinky toe while simultaneously zapping away diapers with a wiggle of my nose!
This post is sponsored by Best Buy. The reviewer has been compensated in the form of a Best Buy Gift Card and/or received the reviewed product at a reduced price or for free.