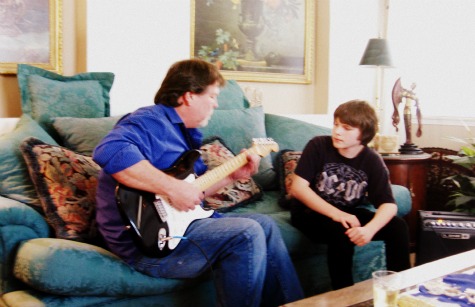 People always complain about the "holiday letdown," that slump that often occurs between Christmas and New Year's Eve. You feel fat, the kids are cranky, there are no more presents to open. In our family, however, this mid-holiday period is a favorite time. Family members from far away are usually still in town, and we make a point to get together and celebrate as a big group. There are also quiet times for cousins to bond and parents to enjoy some space. Here are our favorite mid-holiday traditions for this time.
Games
What's a family get-together without somebody storming off in a huff or sulking over their shrinking pile of Monopoly money? Just kidding…Monopoly's banned in our house. This season, our favorite game was a new twist on Charades called "Reverse Charades." We like the junior edition because it's fun for everyone, with easy-to-understand words that even the youngest players can act out. They even have an iPhone app for on-the-go charades. I can just picture my family trying to act out "sprinkler" in the airport while waiting for a delayed plane.
New Technology
The holidays bring about a slew of technology that everyone can bond over as they try to understand the inner workings of a new gadget. My family spent hours asking Siri questions on my mom's new iPhone 4S. The intelligent phone bot told my mom that it doesn't recognize the word "please." Siri has a bit of an attitude, if you ask me.
Breakfast
After a couple of breakfast casseroles, it gets exhausting to try to cook for the slew of people who have taken up temporary residence in your usual quiet house. We usually scale back to ready-made muffins after a few days, but like to get gluten free for those in the family with dietary restrictions (there's always one or two). Udi's is gluten free, but tasty so that no one else complains and I don't have to go buying different pastries for everyone! I like to have their bagels on hand for bagel pizzas, too. That way I have multiple meals covered and everyone's happy, no matter what their dietary needs.
Drinks
Everyone needs a drink or two to survive their family on occasion, right? We enjoy the holiday favorites like champagne and egg nog, and get super-fancy with homemade specialities like mexican hot chocolate.
It seems more and more (especially with children joining the picture) that one of our traditions is to skip New Year's. Is it just us? I can't seem to muster the energy to party until midnight anymore. Lame, right? Nowadays we cozy up by the fire and watch movies all night, with a quiet countdown just before the ball drops. Hehe. Balls dropping. That always cracks me up.
Udi's and Reverse Charades sent over products for us to incorporate into our mid-holiday traditions this year. All opinions are my own.