Before I had kids, I had a very specific routine. My morning coffee routine. I would gear up in my fancy-pants work clothes, drive through my favorite Starbucks and head to the office with a pastry and coffee. I always arrived before everyone else so I could have a good fifteen minutes all to myself with my morning coffee, browsing through emails and shopping online. That was the life. Just me, my morning coffee and my computer.
Life has changed a little bit, with an 18-month-old and a 2-week-old now in tow. I don't put on work clothes anymore (I'm lucky if I get a shower in the morning) and the nearest Starbucks is a half hour drive into town. No way I'm getting my morning coffee unless I muster up the energy to make it myself. Fortunately, Starbucks sells their coffee blends for people to make at home. And I have a coffee pot that I can set to auto-start before I even wake up.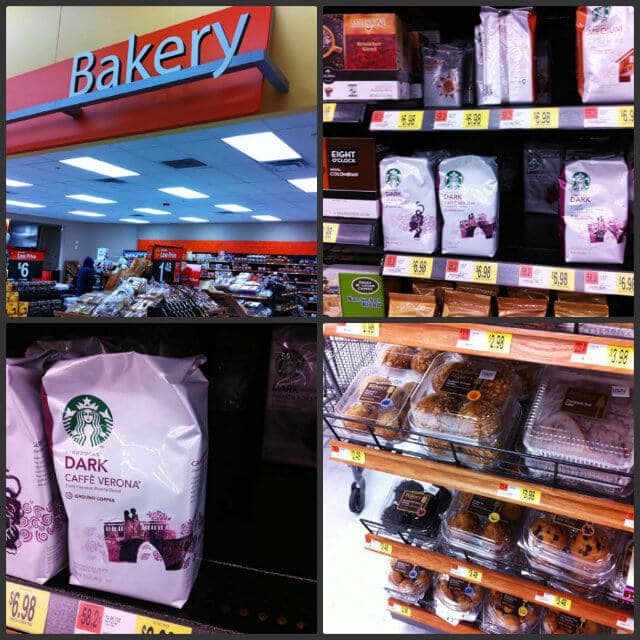 But what about my morning pastry? I don't have time to be baking right now. Fortunately, Walmart has fresh pastries in their bakery section. I swear, they're way better than the ones our local grocery store has. And they sell Starbucks coffee. I can get everything I need for my morning coffee in one place!! If any of you have tried shopping with a toddler and an infant at the same time, you can probably relate to the glee I find in errand minimization.
A friend told me that she saw a Delicious Pairings display in her Walmart bakery with Walmart pastries and Starbucks coffee together, showing which coffees go best with which pastries. My Walmart didn't have a display like that, but I picked up their chocolate chip muffins from the bakery and Starbucks Caffe Verona from the coffee section and found that those two are a match made in heaven. I love dark, rich coffee and this one didn't disappoint, with hints of milk and dark chocolate and caramelized sugar that paired perfectly with the chocolate chip muffins I chose.
My Morning Coffee Routine…After Children
While I may not get my 15 minutes of solitude every morning (hah! not even close…), I do make it a priority to get some coffee, a tasty breakfast, and at least a moment or two to get up to speed on what's happening in the outside world. This is what a typical morning looks like with my pastry, my at-home Starbucks and my boys. Notice Some Boy stealthily feeding Kracken his breakfast leftovers while I browse the web with Sidekick strapped to my chest in the trusty old Moby carrier.
Lately I've been doing a ton of online shopping in this spot, getting all the holiday gifts taken care of in the comfort of my breakfast nook. There is no way I'm dragging my two kids out into the December mobs. Give me my morning coffee, a computer and a sturdy high chair to wrangle Some Boy in and I am totally set to shop…with my credit card in hand, of course.
This past weekend, my Saturday morning was spent getting up to speed on UCLA's crushing loss to Stanford in the Pac-12 championship game. Sad face.
Some Boy was pretty shocked to hear the news as well.
Obviously, Kracken was rather torn up about it. He probably had a few bones riding on that one. I feel your pain, man, I really do.
That's my morning coffee routine. How do you spend your mornings?
I am a member of the Collective Bias® Social Fabric® Community. This shop has been compensated as part of a social shopper insights study for Collective Bias™. #CBias #SocialFabric #DeliciousPairings