I've mentioned a couple times lately that Sidekick and I have been fighting serious sinus problems for months now. I take after my dad in that department, and the baby takes after me. Not good times come cold and flu season.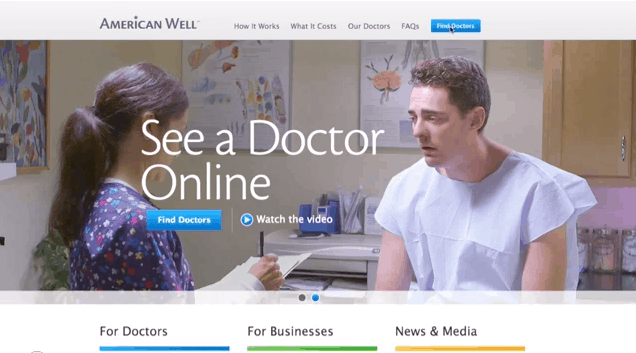 A company called American Well reached out a couple weeks ago to share their cool, helpful tool: on their website, you can see a doctor online within 10 minutes for $49. No insurance required. In fact, many insurance providers actually cover the cost of online doctor consultations. Even if they don't, though, it's a pretty big time-saver. My copay alone is $25. Is it worth an extra $24 to avoid the hassle of loading up my two kids, driving half an hour to the nearest urgent care and sitting in the disease-ridden waiting room for an hour?
Yeah, that's a rhetorical question. I leapt at the chance to give it a try.
I picked the very first doctor on the list, and she was kind (she waved at my baby over the screen!), succinct and to-the-point. She listened knowingly to my gross descriptions of yellow boogers and green-tinged mucus. Diagnosis: bacterial sinus infections. It's not normal for anyone to feel this bad for this long, and she got us all set and out the proverbial door with prescriptions in-hand within 10 minutes.
I was able to manage my own healthcare and Sidekick's through a single account (though I did have to setup separate consultations for each of us, just as you do with most doctors in-person). One thing I'd remind parents of ahead-of-time is that it's important to know your child's current weight and whether or not their immunizations are up-to-date. That's information they'll ask you for since, unlike their typical in-house doctor, they won't have all of the charts in-hand.
Oma actually works as a "hotline nurse," (that's totally NOT her official job title, but that's what I've dubbed it) so I've been calling on her for years for over-the-phone assistance and knowledge related to everything from midnight fevers to sprains. As a parent, I can't imagine not having someone on-call at all hours. It's such a relief to be able to access a doctor at 3am and know that you'll have an answer ASAP – or in the case of American Well, even a prescription sent over to your local 24-hour pharmacy – for just $49. And if you're too sick to roll out of bed, you can just grab for the handheld electronics you undoubtedly keep on your nightstand. Yeah, there's an app for that.
Readers, give American Well a try for yourselves using coupon code THEDAYS. It's good for one coupon or nutritionist visit per account until 2014.
Have you ever had an online doctor consultation?