Welcome to the eighth edition of Teach Me Tuesday! Here are some of my faves from last week.
These Stained Glass Rainbows from Trish at Mom on Timeout are so easy to make, and you're bound to have all the supplies on hand. I can't wait until Some Boy is as big on crafts as I am! Right now he's more interested in crawling into the dog kennel and barking…so, uh, we're getting there. This looks like a perfect toddler starter craft to peak his interest.
Nate introduced me to his tripod this week (hah…now that I type that out it just sounds wrong, doesn't it?). I was surprised at how difficult those things are to manipulate. So many levers and latches to set up the perfect shot. For a stable camera support without all the fuss, check out this DIY Camera Bean Bag over at A' Casarella. Elena always come up with the cutest ideas, and her photography takeaways are really helpful!
I spent my early years out of college teaching in a third grade classroom, and I have a LOT of opinions about child education. I think we need to give children more credit than they usually get and foster them to become independent thinkers. The Montessori method helps guide youngsters into self-sufficient kids. Shelly offers some incredibly actionable tips over at Don't Mess with Mama to Bring Montessori into your Home!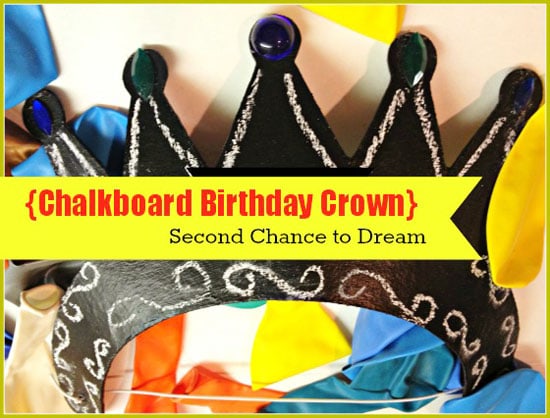 Barb from Second Chance to Dream often gets together with a group of friends to celebrate each other's birthdays, and she came up with this adorable idea to help party in style. This Chalkboard Birthday Crown will let you doodle sweet nothings to call attention to the night's honoree…and then erase and do it all over again for the next big celebration!
Hilary over at Domestic Bliss Squared has a child who keeps growing out of her clothes. Sounds familiar. She extended the life of some particularly cute fabric by simply adding a chunk from an old shirt into the middle of a too-short outfit to Upcycle a Little Girl's Dress! How cute is that? If only I could pull this off on my son's clothes!

If you were featured, feel free to grab a button to show off. And then…on to the party!
Party Rules:
I would love it if you'd post a link back somewhere on your site or within the post you're linking to Someday I'll Learn so that other people can learn about the party (you can grab that awesome button below if you feel so inclined.)
Please visit other's links and show them some appreciation.
Please link to a specific project, craft, recipe, etc – something we can learn from! Don't link to Etsy shops, giveaways or your home page.
By submitting a picture, you state that you own or have permission to post that picture.
By linking up, you grant SomedayIllLearn.com permission to feature your photos in next week's link-up