When it comes to gas powered lawn tools on the market, STIHL is hands down the best. They're king of all the timber cutters, grass trimmers, and leaf blowers out there. An important aspect of owning a piece of this german engineered history, many of which are made in America, is learning how to store a STIHL chainsaw properly.
I love my STIHL tools, and this is what I came up with when I decided how to store a chainsaw and other STIHL tools in my little shed.
STIHL recommends storing chainsaws with the scabbard, all images are for demonstration purposes only.
Making Your STIHL Tools a Home
First, you need to find a place to properly store your chainsaw and other tools well. Honestly, it doesn't matter if it is your attached garage, an exterior shed, a 40 foot shipping container, or a steel locker system mounted to the outside of your home. Our family is currently (and hopefully temporarily) living in a very small 60-year-old home in the Pacific Northwest while working to build on our new farm property. We don't have a ton of room in the one car garage, so I had to get creative.
As a solution for our storage needs, we invested in two little Tuff Sheds. "His and hers," as they say. The rest of the non critical stuff is kept on the property where we plan to build our forever home. The shed came rough finished, so I had lots of opportunity to make the most of my little saw's home.
How to Make the Most of Small Storage Spaces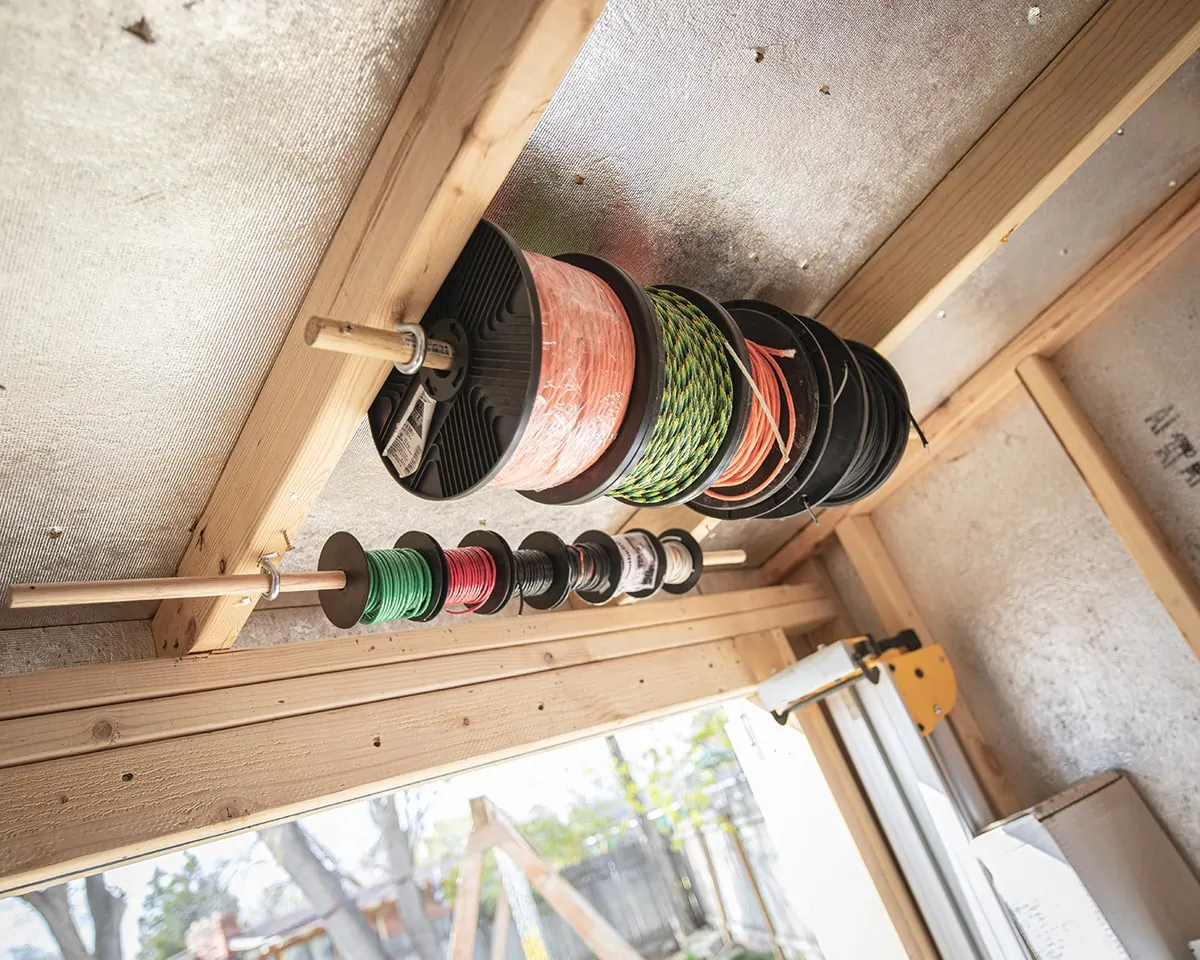 If you have trailers or enjoy working on your vehicles, there's a chance you have spools of various gauge wire without a home. One solution I came up with is using an oak dowel and some short eye bolts to hold the spools up on the ceiling of my shed. This also worked really well with my half dozen spools of 550 paracord which always come in handy with numerous "dad crafts" and projects with the boys.
How to Store STIHL Combination Wrenches
After acquiring a number of amazing STIHL tools over the years, I also seemed to have a large amount of the adjustment tools that come with them. Since I didn't have any plans to put a potted plant in my shed's windowsill, I used a drill bit just larger than the wrench shafts and drilled holding holes in the window framing. This made storing these tools extremely simple and obvious, which is always good.
How to Store a Chainsaw
I have looked and looked for convenient ways to store my STIHL chainsaws and found a number of simple(ish) solutions along with some wild ones. When it came to the small shed, floor space was vital so I knew I had to hang my saws on the wall. I came up with an idea that kept weight off the bar and chain and let the bulk of the saw's weight rest on the bumper spikes and body.
Using two 2×4's gapped on the ends with a 4×4 piece of 3/8ths plywood, I bolted a wall support rack to the shed's studs. This made it so the chainsaws could rest on the 2×4's while the guide bars could slide between the two. Based on spacing, I chose to place the fuel tank towards the wall which left the bulk of the saws jutting towards the room.
Important Note About Storing Chainsaws
I learned something important when visiting the nice STIHL people in West Virginia. Whenever you are done using your saw, be sure to loosen your chain. The cooling metal of the chain will actually contract and if not properly loosened, it can pull on your saw's sprocket and potentially cause unnecessary, avoidable damage.
Wall Mounting Chainsaws
After initially mounting my saws to the wall, I noticed they leaned inward to the room. They actually tilted until there was back pressure from the bar and chain inside the 2×4 slip rack I had made. The good news was that I saw an easy fix.
By using an additional spare 2×4, I bolted in a "tilt prevention" bar. I decided to mount this bar just at the ends of the shortest saws on the rack. This actually made it so the saws didn't tilt at all, and subsequently little to no pressure was exerted on the bars.
Choosing the Best Fuel for your Chainsaw
STIHL gas chainsaws are made in America and come from the finest German engineering. They even took care to make their own brand of 93 octane fuel in the STIHL MotoMix. Just like the rest of their tools, this fuel is perfectly blended and is ethanol free.
What that means is the fuel lasts longer and doesn't degrade when left in the fuel tank of any of STIHL's gas powered tools. That means you can store your tools longer without having to worry about replacing a carburetor or even spark plugs, since the fuel made from other mixtures can degrade them. This is a perfectly formulated blend of fuel specifically engineered for these tools.
The Best Chainsaw Protection
When it comes to how to store a chainsaw – whether you choose wall mounted or not – there are a few factors that STIHL wants you to know about. Make sure you keep your chainsaws in a well ventilated, dry, and shaded place away from the weather. That's advice directly from one of the best chainsaw brands in the world!
The good thing about the way I chose to mount the saws was that it lent itself to a simple solution inspired by the very weather I was protecting my saws from. I simply put a short section of gutter below the saw's bars. That worked extremely well to catch the oil drips, as well as any extra wood chips from the saws themselves.
Storing Lawn Tools
Inspired by my wall mounting efforts with the "motorsägen" before, I worked to clear my shed floor of the rest of my yard tools. Dropping by a local hardware store, I picked up a number of rubber coated "U hooks," single hooks, and another 2×4 plank. I mounted the plank to the wall, after measuring to the best height, and installed the hooks.
This was done so that the longest trimmer's head would rest just above the floor. This worked on all my tools from the FS 250 to the battery powered KMA 135 Kombi Tools I recently obtained to get more work done with less tool. Even the BGA 130 blower was easily mounted on just a simple bolt.
Storing Pruners and Loppers
Let's not forget the little guys in our home care game. Pruners and loppers are easily misplaced and a bit awkward to store. I made simple work of stowing them away between their big brothers by using a sturdy screw.
The Best Tool Storage
There is a lot to learn when it comes to owning great tools, especially when it comes to knowing how to store them. Remember to keep a few cans of STIHL MotoMix on hand, perhaps an extra air filter or two, a jug of bar and chain oil, and a few extra chains definitely can't hurt.
Do you have any other unique ideas about how to store a chainsaw?