We've been spending just about every day lately at the beach or by the pool. It can be kind of a challenge to keep the whole crew engaged, entertained and safe in the water when you have a spread as we do from ages 6 to infant. Today, we're sharing how we explore water play with siblings of varying ages.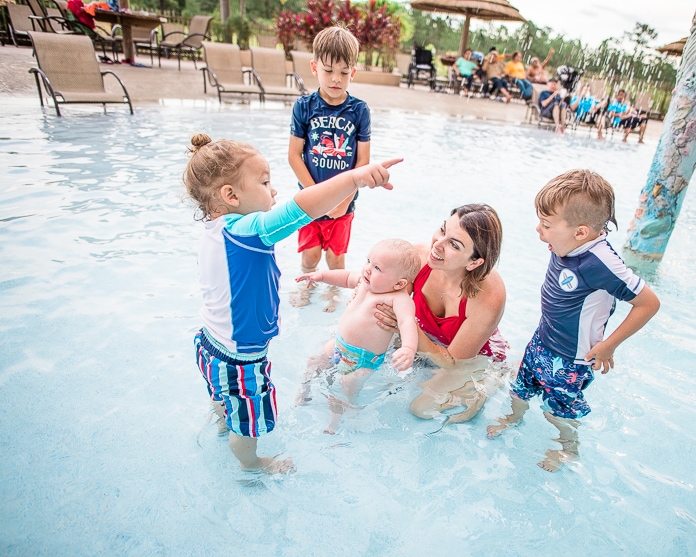 The boys and I have been working with Huggies Little Swimmers this summer, creating content to help babies thrive in water through fun, safe play. Michael Phelps and his wife are even taking part with their son Boomer (you can see all the action on the hashtag #trainingfor2032 on Twitter and Instagram). My kids have learned so much after all this water activity together – and I think the swim time has really encouraged them to bond with each other in the process!
Safe, Fun Sibling Water Play
Be Prepared
Getting ready for your day ahead of time with the right gear can help minimize any meltdowns at the pool. My big boys wear rash guards to protect their skin from the sun and sand, and the whole crew gets slathered-up in sunscreen. The littlest dude obviously isn't potty trained yet, so he wears Huggies Little Swimmers swimpants. They don't swell, and they feature easy open sides for an adjustable fit which means even in his current rapidly-growing phase, I can stock up on a few packs at the beginning of the summer and be confident they'll fit him all season.

Buddy Up
When you have multiple kids in the pool, it's a great idea to partner them up and suggest activities for them to entertain each other with. This makes it easier on the supervisor since you get to observe and direct as opposed to trying to interact with everyone all at once. It can also help siblings get some rare one-on-one time to really focus on each other!
Start Small
Water training may look different for different babies. You don't necessarily have to dive right in to the deep end! We love pools with zero-entry edges. You can also try easing in with sprinkler play, wading around the shallow end or taking a trip to the beach.

Experiment with Different Activities
I think that a lot of us try to structure water play based on how we were taught to enjoy the water as children. Many parents are familiar with dive sticks, Marco Polo and dolphin play. That's all great for older kids, but wee ones don't need a bunch of over-the-top activity. Little babies are easily entertained with clapping, making faces, blowing bubbles or even just sitting around and taking in the scenery in your arms.

Don't Overwhelm Them
When you have this many siblings (and probably friends, cousins, aunts, uncles and grandparents) fawning over the baby, it can get a little overwhelming. If you notice your baby pulling away or looking like he's kind of over the situation, give him a break. It also helps to be mindful of nap time!

Get Down to their Level
I often drag a plastic chair or stool into the pool so I can get down and be really hands-on with my toddler while holding the baby. That way I'm comfortable, they're happy playing at eye-level with each other, and we're all bound to last a lot longer in the water than we otherwise would.
How are you helping your little one bond with water buddies? Join in the conversation with the hashtag #Trainingfor2032 and save $1.50 with this coupon for Huggies Little Swimmers to get your own baby swimming along this summer!
Huggies believes deeply in the Power of Hugs. That's why every Huggies diaper and wipe is inspired by parents' hugs. For nearly 40 years, Huggies has been helping parents provide love, care and reassurance to help babies thrive. No Baby Unhugged is Huggies promise to ensure babies get the care they need to thrive – from innovative everyday products, growing hospital hugger programs and specially-designed products for the tiniest of babies, to diapers and wipes donations. Huggies is the fastest growing diaper brand in hospitals and partners with NICU nurses to develop diapers and wipes that meet the specific needs of pre-term infants. For more information on Huggies No Baby Unhugged program visit the "Why Huggies?" page at Huggies.com.